{ block.headingType}}>
Our Approach
At Angove Family Winemakers, our dedication to responsible Certified Organic farming, coupled with excellence in winemaking, has set the benchmark for best-practice across the organic wine industry in Australia and internationally.
This commitment to sustainable and biodiverse farming, results in healthy, resilient vines and an incredible purity of fruit. We use traditional viticulture methods on the vineyard, like harvesting in the morning to preserve flavour and reduce oxidation which produces deeper, richer flavours and delivers award winning wines
Australian Certified Organic (ACO) Standard
All Angove Organic Wine is produced in line with Australian Certified Organic standards.
A Certified Organic logo is displayed on every bottle, to give you the confidence that our delicious wine is grown organically and crafted in a Certified Organic winery, free from synthetic chemicals, such as herbicides, fungicides and pesticides.
We are also one of a handful of wineries meeting international Certified Organic standards in the US, EU, Canada, China and Australia.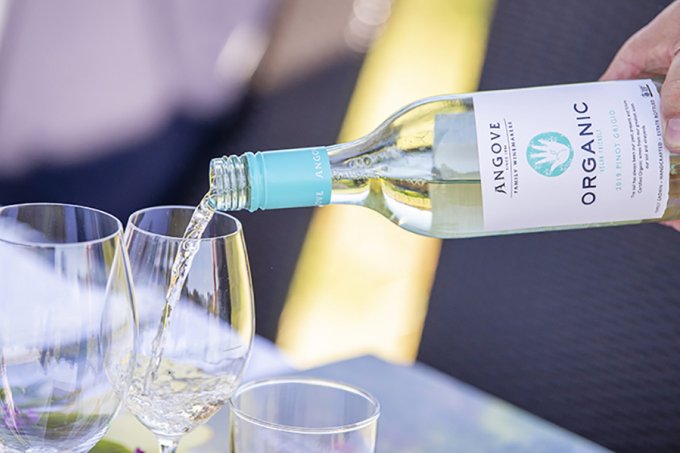 A Remarkable Taste
Because our wines are produced from incredibly healthy vines, you will experience an extraordinary purity of fruit and a taste that is unique to the South Australian wine regions where our grapes are grown.

Our Organic Wine Range
Angove Organic wines are Certified Organic and crafted from premium grapes sourced from our organic and biodynamic vineyards through McLaren Vale and the Riverland.
The range of organic wines include:
Fresh and vibrant white wines such as Cuvee Brut, Pinot Grigio, Sauvignon Blanc, Riesling, Chardonnay and Rosé. Delicious and bold red wine including Shiraz, Shiraz Cabernet and Merlot.
Delicious and decadent Wild Olive Shiraz, Chardonnay, Rose and Fiano.
Our truly indulgent and delicious Warboys Vineyard range of Organic wines - Shiraz, Grenache and Shiraz Grenache.
Our brand new Naturalis range of organic wines that are bursting with flavour and ready to be enjoyed now

Explore the organic range
Discover wine that is 100% organic, 100% handcrafted, 100% vegan friendly.
From a full-bodied Shiraz wine to a sensual Merlot wine to a refreshing Chardonnay, your favourite organic wine is waiting for you. Purchase a bottle online today .